Take Your Advertising On the Road with Vinyl Vehicle Wraps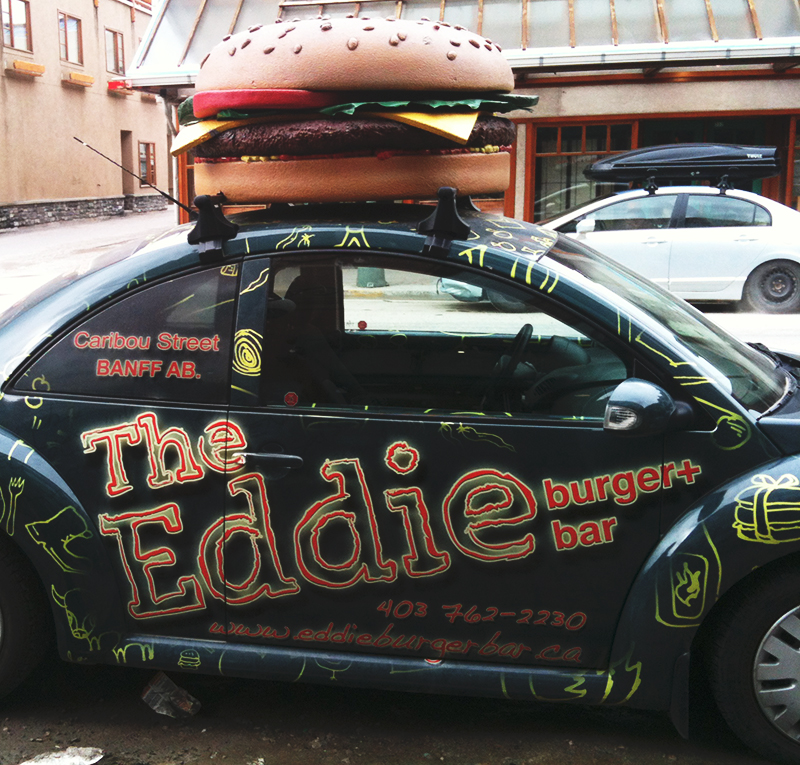 Added on 23 June 2016

By TopMade

0 Comments
(One of Topmade's team was out in Banff, and shot a picture of this terrific vehicle graphic display. Wish we could say we designed and produced it, but thought we'd include it here anyway for inspiration. Way to go, Eddie Burger!)
When you run a business, it's difficult to turn your "entrepreneur brain" off when you're not at the office. You're constantly searching for ideas to improve your services and grow your customer reach. That's why daily inconveniences, like being stuck in traffic, can be so frustrating. It feels like you're wasting time that could be spent productively. The good news is there's a way to take advantage of your commute time to achieve business goals – with vinyl vehicle wraps.
Vehicle wraps are vinyl signs and graphics that are applied to your vehicle to advertise your company. This includes cars, trucks, vans, trailers and even buses. While vehicle wraps are commonly associated with service companies, like plumbing, they can be advantageous for any kind of large or small business.
There are two types of vehicle wraps: partial and full. A partial vehicle wrap might include a simple decal, like your business logo, on two sides of your van. This is ideal if your personal vehicle is also used as a company car and you want a more low-key look. In comparison, a full wrap can create complex and eye-catching designs that incorporate your brand colours or imagery. Perforated vinyl, on side and back windows, allows drivers to see out, while the design remains visually intact to outside viewers. Along with typical matte vinyl, you can also integrate metallic and other special effect vinyl into your layout.
Remember, because it's mobile marketing and your sign will be at a distance from the viewer, you'll want to restrict the amount of text and use a large enough font size. Your logo and slogan should indicate what your business is about, and there should be a method to contact you, like a phone number or website address. However, there are exceptions – if your business is a food truck or mobile retail, you may want to display more information.
8 Benefits of Vehicle Wraps
They're on the move. A permanent sign is important for identifying your business and catching the interest of passersby. But wouldn't it be nice if you could put signs up wherever you wanted, to reach a wider audience? Luckily, you don't need to! Vehicle wraps go where you go. That means when you're out and about in your local service area, or zipping through the city, your contact info is visible to potential customers.
They're keeping it professional. Even if you're a small company, with a van or two, custom vinyl graphics can provide a generous boost to your public image. Much like a sharp uniform, vehicle wraps on your fleet show the world that you're an established business with a cohesive team.
They're personal identification. In modern marketing, a key tenet is "be human." If your business is located in an industrial park, you can feel isolated from your audience. In this case, vehicle wraps are a simple way for people to see your company actively working within the community. What's more, if someone spots your professionally branded service vehicle at a neighbour's house, they're likely to ask about you and request your services. It's easier to trust a friend's opinion than to take a gamble with online reviews.
They're running 24/7. When you're traveling around town or parked for long periods of time, your vinyl vehicle wraps are still serving their advertising purpose. Unlike other forms of advertising, there's no daily budget to max out or a limiting schedule.
They're 360°. With a full vehicle wrap design, you can advertise your business information on all sides and all across town.
They're not pushy. Online display ads, for example, can pop up when a potential customer is watching a video or browsing a website. This kind of interruption is likely to cause irritation, not interest. Vehicle wraps, on the other hand, do not interrupt your audience as they go about their day. In fact, a well-designed vehicle wrap can be a welcome distraction when gridlocked. 
They're protective. A common question about vehicle wraps is, "will it damage the paint job?" The truth is, vinyl helps your vehicle resist scratches and dents. And when you want to change your design, or sell your vehicle, it can easily be removed by a professional.
They're creating exposure. Most importantly, by having a visible presence around town you'll increase brand awareness. Brand awareness is more than how many likes you can get on Facebook. It means that when someone is deciding who to call about a landscaping disaster, or where to go shopping this weekend, your company will be top-of-mind.
Traditional methods of marketing, such as TV commercials and newspaper ads, are not as effective as they once were. It can also be difficult to allocate the time and resources needed to monitor and engage with social media. So why not use a daily activity, like driving, to your benefit? If you have any questions on vehicle wraps, give us here at Topmade a call. We offer expert signage consulting through every step of the process.