5 Advantages of Attractive Awnings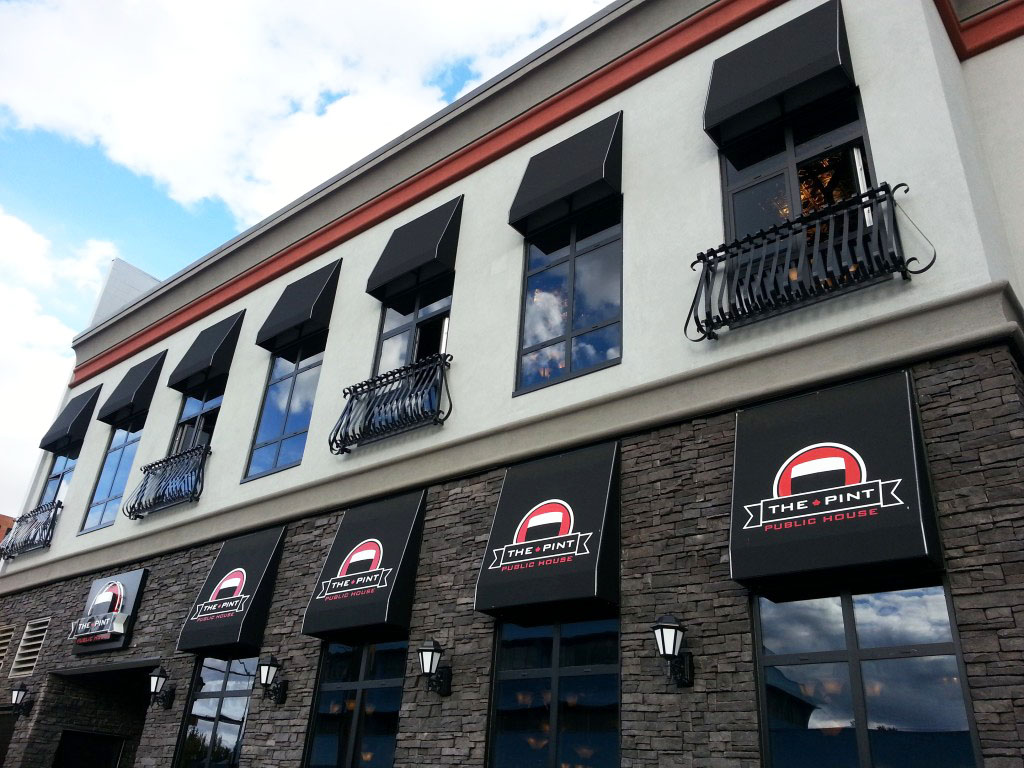 Added on 31 March 2016

By TopMade

1 Comments
As a pedestrian, you may experience one of these scenarios (usually while window shopping on a day off):
Getting caught suddenly in a downpour.
Or, walking under the blazing sun for too long.
In both cases, you might be lucky enough to spot the awning or canopy of a nearby business as a temporary solution to your plight. And, perhaps, while standing there, your curiosity is piqued and you decide to go into the shop.
These two examples illustrate just one of the ways awnings can create organic moments that benefit the customer and the business owner. Awnings and canopies also offer a number of other, more overt, advantages:
Marketing your message. Awnings and canopies are commonly used over entrances, walkways, patios, terraces and windows. Your company's logo or contact info can easily be displayed, and lit from above or below, so it continues to capture attention well into the evening. If you have a free standing store with multiple windows, for instance, you can potentially advertise in all directions.
Reinforcing your visual identity. Instead of using a logo, you can also rely on fabric patterns, awning shape, and/or graphics to support the tone of your brand in a subtler way. This extra touch adds to the character of your business, demonstrates your attention to detail, and, literally, helps you stand out from your neighbours.
For example, a business that desires a vintage look might use the classic white-and-red striped awning with a scalloped trim. To the potential customer, this is a familiar image that conjures up warm feelings associated with an idealized past. In comparison, a company that caters to an audience that appreciates modern design aesthetics might decide on black canvas and clean edges.
Generating savings. In a report by the U.S. Department of Energy, Cooling Your Home Naturally, they found that awnings "can reduce heat gain up to 65% in south facing windows and up to 77% on windows facing east." Furthermore, their ability to act as a natural climate control system takes some of the pressure off of mechanical air conditioning thereby reducing the cost for cooling a building by 25%. And the savings don't stop there! Direct sunlight on your windows can cause glare or can fade products in your displays. Awnings assist in preserving your wares, so they look good longer, while allowing people to do their browsing.
Guarding against weather. As we talked about in the intro, awnings and canopies are not just "fair-weather friends." During sunny days they provide precious shade and, when its snowing or raining, they're a temporary escape from the wet and cold. Moreover, they facilitate keeping walkways clear of debris.
Over time, awnings need professional maintenance. Not sure what services are available? Check out our blog post on "Awning Refurbishing."
Building community. Perhaps the most surprising benefit is the potential to develop welcoming gathering spaces. Awnings and canopies accomplish this by permitting public spaces to remain usable throughout the year. In fact, most area redevelopment plans, and urban design experts, encourage businesses to invest in awnings and canopies because they promote walkability which, in turn, helps commercial areas and neighbourhoods thrive.
Awnings have a long, long history. Curious? Check out this great article by the U.S. National Park Service!
Thinking about an awning or canopy for your business? Give us here at Topmade a call. We offer expert signage consulting to help you through the process – from sign permits to final installation.