cut out metal signs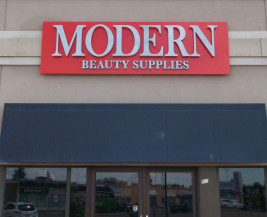 Modern Beauty Supplies
LED (halo-effect) Channel Letters & Painted Cut-Out PVC Letters on Aluminum Metal Backing Panel
There's just something so appealing about a metal sign. Maybe it's the crisp lines and finished sheen. Or it could be our association with steel, innovation and strength. When paired with a clean sans-serif font, it can make a business slogan appear cutting-edge. Or, with the right imagery, it can become a nostalgic design that brings to mind classic motorcycles. Want to pair metal with illumination? No problem! Some backlighting can easily turn your sign into a 24/7 advertisement with a beautiful halo effect.
Recently, there has been a trend in unpolished, distressed and rough-edged designs. This style can easily be captured by metal signs as there are many different types, colors and finishes of metal. While the design possibilities for metal signs are impressive, they tend to fall into a few main types: cut-out or engraved metal signs, embossed metal signs, and dimensional metal letters.
Engraved or cut-out metal signs often feature a metal base while the design is created by the shapes that are cut out or drawn on the metal. Due to its bulk, this type of sign has more of a visual presence than signs created from mounted metal letters. However, it's more contemporary than embossed metal signs. Plus, materials like colored plexiglass can be inlaid into the blank spaces, to form a layered design. It's a great option for companies that want a bit of edge to their branding.
Embossed metal signs are often used as plaques or directory boards. There is a traditional association of permanence and authority with this type of sign. This makes it an ideal choice for companies that rely on a customer's trust, such as a security firm or a bank.
Depending on the font used, dimensional letter metal signs can appear delicate and subtle or bold and strong. This flexibility means it functions well as a supportive wayfinding sign or as the main storefront sign. These letters can be affixed directly on the wall, to another material, or made to "float" away from the surface. With the added spacing, lighting can be added.